Are you looking for ways to help your neighbors during the COVID-19 outbreak?
---
The Commons at Central Hall is currently enlisting volunteers for their Community Pulling Together and Calling for the Common Good programs.
Community Pulling Together is focusing its efforts to keep higher risk individuals (over age 60! Or anyone with pre-existing illnesses) home safe and out of the stores by taking grocery orders, and having volunteers do the shopping and deliver to their doors.
Calling for the Common Good is a telephone outreach program to check in on our neighbors to make sure they are okay and share a few connected, perhaps lighter moments in this dark time. Anyone with a heart and a phone can do this!
Call or text: 207-343-3018 or email: jmorse@centralhallcommons.org to get involved!
---
Helping Hands with Heart is working with the Commons at Central Hall, Eastern Area Agency on Aging, Maine Highlands Investment Partnership, Piscataquis Regional Food Center, and United Way of Eastern Maine to recruit volunteers in our community to assist those in need.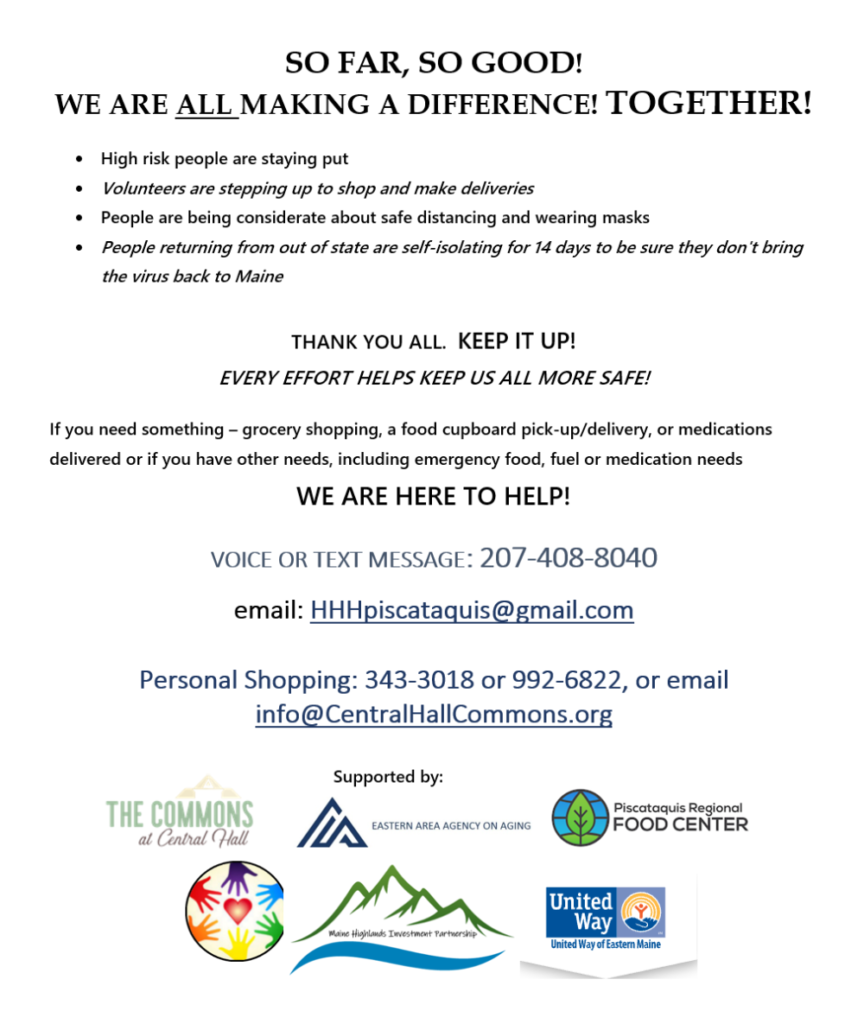 To sign up:
United Way also suggests other ways to support our community, including directing people to 211 Maine for information, donating needed items, calling friends and family, and contributing to the Eastern Maine COVID-19 Emergency Response Fund.
Most importantly, remember to take care of yourself!
---

Educate Maine is working with teachers and educators to distribute books to students in all 16 counties with their 2,020 Maine Books Challenge. You can help by purchasing an online gift card to one of Maine's independent bookstores.
---
AARP is organizing a Virtual Call Center to help address isolation and loneliness.
From AARP:
Isolation and loneliness have always been a concern, particularly for older adults. As we deal with the COVID-19 coronavirus, the problem is more widespread and serious today. You can help! AARP has created a new Virtual Call Center that people can call to hear a kind voice and have a friendly chat.
If you'd like to be part of the effort to respond to these calls, from the comfort of your home, please complete this simple interest form.
Here's a description of the opportunity. We plan to use technology to forward calls to whatever phone you designate during the time you will be available to help with this effort. Training will also be provided before you are asked to respond to calls. Interested volunteers need to have:
Access to a computer with an internet connection
A phone that can make and receive calls (unfortunately, reimbursement for long-distance calls or phone service is not available at this time)
Basic ability with technology
Thanks for your consideration! If you have any questions, please email: volunteer@aarp.org.